Used Luxury Cars

Why buy used luxury cars near Cleveland, OH? There are far more answers to that question than you'd probably think. And, in the coming article, we'll be diving into these answers while also taking a look at the various luxury cars available in the Jaguar Westside inventory.
Luxury brand models are the pinnacle of everything an automotive vehicle can be. The styling is impeccable and creative, the performance is through the roof, and there's no better feeling than watching all those heads turn as you cruise effortlessly down the street.
Benefits of Buying a Used Luxury Car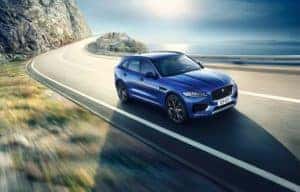 If you enjoy driving cars with thrilling acceleration, bristling top-end speeds, pinpoint handling, and luxurious interiors, then you should strongly be considering a used luxury model.
First, the pre-owned aspect of this purchase will help you save money while still being able to drive off in a refined piece of automotive art. And really, art is an apt term to use in this instance.
The care and meticulous dedication that goes into crafting a luxury vehicle is astonishing, a process that extends over the course of multiple years, with a team of experienced and intelligent developers working in unison with a singular goal in mind.
The outcome is something that kids often stay up late at night dreaming about. It's a car that you can hear laughing with excitement as you press down on the pedal, a car that blossoms as it accelerates, eager to show off its beauty to the spectating world.
Luxury cars transcend the everyday-ness of the road, and instead instill a sense of wonder and giddiness deep inside the driver. The destination never matters with a luxury model, because you'll be far too busy savoring the journey.
Used Luxury Car Inventory
Our used Luxury car dealership can help pair you with the right model thanks to our expansive and diverse inventory.
For starters, there's the used Jaguar XE, a pristine sedan that revs like a racecar and handles like one, too. Or, you can opt for the pre-owned Jaguar F-PACE, which delivers a leisurely and refined interior while still retaining an untamed athleticism.
Finally, if you want to scorch the road as you travel, opt for the blistering, used Jaguar F-TYPE. To see every available model we have in stock, check out our used luxury car inventory online!
Financing Your Used Luxury Car near Cleveland OH
If you have questions about the financial process, you can sit down with a team member from our staff and discuss options. We'll be happy to help you get a loan or create a unique payment structure that fits into your budget, preferences, and lifestyle.
We have online tools that can help with this, also. The pre-approval form is a good one because it gives our staff helpful information about your particular situation!
Test Drive a Used Luxury Car! 
To see if a used luxury car in our inventory is right for your lifestyle, take it out for a spin. This will give you a feel for the performance, interior, and various other appealing traits. To do this, contact Jaguar Westside today!