Tire Center near Me

Always eager to help maintain the vehicles of drivers in the Cleveland, Parma, and Garfield Heights communities, Jaguar Westside has put together a specialized tire center where we can deliver exceptional care for all your wheel needs.
Various tire-related services are pivotal for the long-term health of your model, including tire alignments and rotations. We can also outfit your model with a set of wheels that serve specific purposes, such as off-roading or improved on-pavement performance. To better understand what we're all about, check out our tire center near you. Then, schedule a service appointment today to get started!
Outfitting Your Jaguar with the Right Tires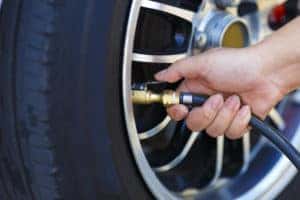 One of the main priorities of our tire center is to ensure your vehicle is paired with the right set of wheels. To do this, we'll talk to you to understand what type of performance you're looking to get out of your Jaguar.
To start, we have a long list of available brands to select from, including Pirelli, Continental, Hankook, Dunlop, Michelin, and Goodyear. This diversity gives us the chance to customize your driving experience.
So, if you're looking to grip the road tightly while navigating tight-cornered city streets, we've got a set of tires for you. Need something to make it through the wintery conditions? We've got a set of tires for that, too. We've also got tires for the off-roaders of the world as well as drivers who want to receive a little boost in fuel economy.
Tire Rotations, Alignments, and More
Along with outfitting your vehicle with the right set of wheels at our tire center, we'll also be happy to provide any necessary service your Jaguar model may need.
Tire rotations, for instance, are recommended to occur with each oil change, which should be about every 5,000 miles or so. Tire rotations will help extend the life of your tires while also helping your Jaguar maintain peak performance.
On top of that, we'll happily do tire alignments. This maintenance procedure is similarly effective in extending the life of your tires. Over time, the angle of your tires will adjust due to various exterior conditions, and the alignment ensures they remain stable and balanced.
Many other forms of service, including tire replacements, can be performed at our on-site facility.
Receive Great Value at Our Tire Center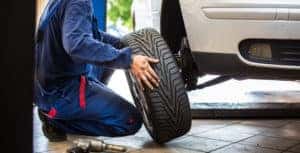 To help you land a great deal, our tire center offers a rotating list of discounts and service specials. You can view these opportunities online to see what's currently available. Sometimes, it's a reduced price on a tire rotation. Other times, you'll get a great deal on your next set of wheels.
You can also go online to schedule an appointment at our tire center using our online scheduler tool!
Visit Our Tire Center near You
If you find yourself around Cleveland, Garfield Heights, or Parma, check out the Jaguar Westside Tire Center, where we can outfit your specific model with specialized and highly effective wheels!