JAGUAR I-PACE

Whether you're an automotive-enthusiast looking for insight into the latest market trends or just a day-to-day driver researching options for your next vehicle, this Jaguar I-PACE review will prove both informative and interesting. To get an overall feel for this unique model, we'll be looking at specific traits, such as the performance specifications, the in-car technology, and the safety technology as well.
If you find yourself in or around Cleveland, Parma, or Garfield Heights, you can always reach out to nearby Jaguar Westside with questions or to schedule your very own test drive!
One-of-a-Kind Performance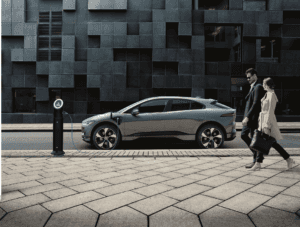 What makes the I-PACE so revolutionary is that it generates astonishing amounts of power without having to utilize the traditional gas-powered engine and transmission most motorists are accustomed to.
Instead, this innovative SUV is equipped with two permanent magnet synchronous electric motors that have been integrated into the front and rear axis. Using traditional measurements, this setup can generate a hefty 394 horsepower and 512 lb-ft of torque. In addition to this, your SUV will accelerate from 0-60 MPH in 4.5 seconds and has an available electric range of up to 234 miles.
Performance doesn't end there, however. To keep your vehicle cool while traveling at bristling speeds, the front of the SUV has active vanes that increase cooling and aerodynamic capabilities. There's also a heat pump for when the weather gets chilly.
In-Car Technology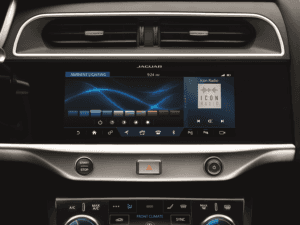 Given the cutting-edge innovation that drives the Jaguar I-PACE performance, it's no surprise to see this SUV also sporting a contemporary cabin flush with driver-assistance systems.
First up is the Touch Pro® Duo, which consists of a 10-inch touchscreen integrated into the dashboard and an accompanying 5.5-inch touchscreen positioned just below. If you often find yourself in need of directions while you're driving, there's the Navigation Pro feature, which allows you to choose between 2D or 3D maps that will guide you to your destination.
In addition to these features, there's a stunning Meridian™ Surround Sound System that utilizes Trifield™ technology to create crisp and resonating audio.
A Safer Way to Cruise
The remarkably advanced Jaguar I-PACE also leverages technology to create a safer ride that will constantly look after your well-being. It does this with features like Emergency Braking, which uses a radar to anticipate front-facing collisions and, if this type of collision seems likely, begins to apply the brakes automatically.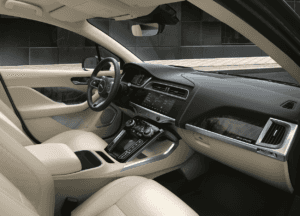 There's also the cutting-edge Adaptive Speed Limiter and Traffic Sign Recognition. This unique system will monitor traffic signs, such as the speed limit, and display that information on your instrument cluster, so you never have to avert your eyes from the road. This system can also adjust your pace to adhere to the speed limit by utilizing cruise control technology!
Explore the Cunning Jaguar I-PACE for Yourself!
The best way to review the Jaguar I-PACE is by climbing into the cabin and taking this SUV for a joyride around Cleveland, Parma, and Garfield Heights. If this sounds appealing, contact us at Jaguar Westside!