2021 Jaguar F-PACE vs Porsche Macan

Looking for a vehicle with the perfect balance of performance and luxury? Perhaps an SUV that can effortlessly power your journeys around Cleveland, Parma, and Garfield Heights, OH, and comfortably fit the whole family? Well, two options that fit that description perfectly are the 2021 Jaguar F-PACE and Porsche Macan.
To help you get to know these slick luxury SUVs, our team at Jaguar Westside has compiled this 2021 Jaguar F-PACE vs. Porsche Macan comparison. See how these two stack up and contact us if you have any questions along the way.
Jaguar F-PACE vs Porsche Macan: Powered Performance
Both the Jaguar F-PACE and Porsche Macan are dressed to impress under the hood. Each comes with a jaw-dropping engine capable of intense power, remarkable fuel efficiency, all while providing an excellent sense of control at the wheel.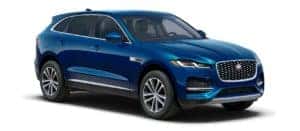 With the F-PACE, you'll find a tremendous range of engines, starting with the standard 2.0L P250 engine, providing up to 246 horsepower and 269 lb-ft of torque. From there, the power only goes up. Next in their roster is the 3.0L P340 I6 engine found under the hood of the F-PACE S model. With this, you can upgrade to 335 horsepower and 354 lb-ft of torque.
If that's still not enough, you can still go up with the engines of the F-PACE R-Dynamic S or the F-PACE SVR. Between these, you can see up to 550 horsepower and 516 lb-ft of torque.
The Porsche Macan, on the other hand, offers a range of engines across its four unique models. However, even its top option, a 2.9L Twin-Turbocharged V6 engine, only churns out 434 horsepower and 405 lb-ft of torque. So, if you're purely after the power and kick that these SUVs have to offer, you're much better off with the Jaguar F-PACE.
Jaguar F-PACE vs Porsche Macan: Fuel Efficiency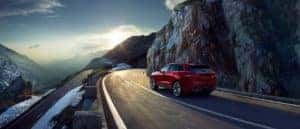 While all that power is nice, who doesn't want an SUV with the fuel economy to keep you enjoying the open road, and away from the constant fuel stops.
In that department, the Jaguar F-PACE once again takes the cake. Here's how the fuel efficiency of the F-PACE and the Macan breakdown across all models:
Model

EPA-Estimated City MPG

EPA-Estimated Highway MPG

F-PACE

22*

27*

F-PACE S

20*

27*

F-PACE R-Dynamic S

20*

26*

F-PACE SVR

15*

22*

Macan

19

23

Macan S

18

24

Macan GTS

Macan Turbo

17

22
As you can see, the Jaguar F-PACE cleans up when it comes to fuel efficiency. Nearly every model of the F-PACE can provide a more efficient ride than those of the Macan. So, you won't have to worry about sacrificing power for efficiency, or vice versa, with the Jaguar F-PACE so brilliantly combining both.
Jaguar F-PACE vs Porsche Macan: Interior Design, Dimensions, and Technology
Inside, both the 2021 Jaguar F-PACE and Porsche Macan are designed with luxurious comfort in mind. Each does this through a set of interior comfort features like automatic climate control, power adjustable front seats, and premium leather-appointed seats.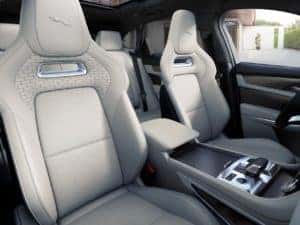 The F-PACE, however, takes comfort to another level with its spacious cabin. Let's take a look at the interior dimensions of the F-PACE:
Headroom (Front/Rear): 39.65/38.46 inches
Legroom (Front/Rear): 40.28/37.17 inches
Cargo Capacity (Behind 1st Row): 69.1 cubic feet
Cargo Capacity (Behind 2nd Row): 31.5 cubic feet
Unfortunately, the space of the Porsche Macan just doesn't come close. With the Macan, you're looking at just 17.6 cubic feet of cargo space, and still just 52.9 cubic feet even with the second-row seats folded. If you're looking to bring along some extra luggage for your weekend getaway, the F-PACE makes it possible.
Both SUVs also come loaded with intelligent, intuitive technology covering everything from infotainment to the vehicle's safety systems. Here, the two actually share some similar features like Apple CarPlay® smartphone integration.
Unsurprisingly, however, the F-PACE offers so much more when it comes to interior technology. Features like Android Auto™, wireless charging, an available rear entertainment system, and an available Head-up Display help set the F-PACE and Macan apart.
2021 Jaguar F-PACE vs Porsche Macan: Final Verdict
In either the 2021 Jaguar F-PACE or Porsche Macan, you're getting an immaculate luxury SUV that'll turn heads around Cleveland, Parma, and Garfield Heights, OH.
At Jaguar Westside, we believe the advanced performance, superior fuel economy, and lavish interior cabin of the Jaguar F-PACE make it the clear winner.
Contact or visit us to schedule a test drive of the 2021 Jaguar F-PACE today!
* All figures are EPA estimates. Actual mileage may vary.