Jaguar F-PACE Lease

A luxury driving experience should be for the many, not the few. You can attain the ultimate on-road companion today, with the Jaguar F-PACE lease.
Why should you drive this commanding SUV and how do you get started finding a lease deal? That's where we come in. Our team at Jaguar Westside is here to help our friends near Cleveland, Parma, and Garfield Heights, Ohio, revolutionize their drives with a new vehicle.
Want to learn more about the Jaguar F-PACE lease? Continue reading our comprehensive overview below.
Jaguar F-PACE: The Ultimate SUV Experience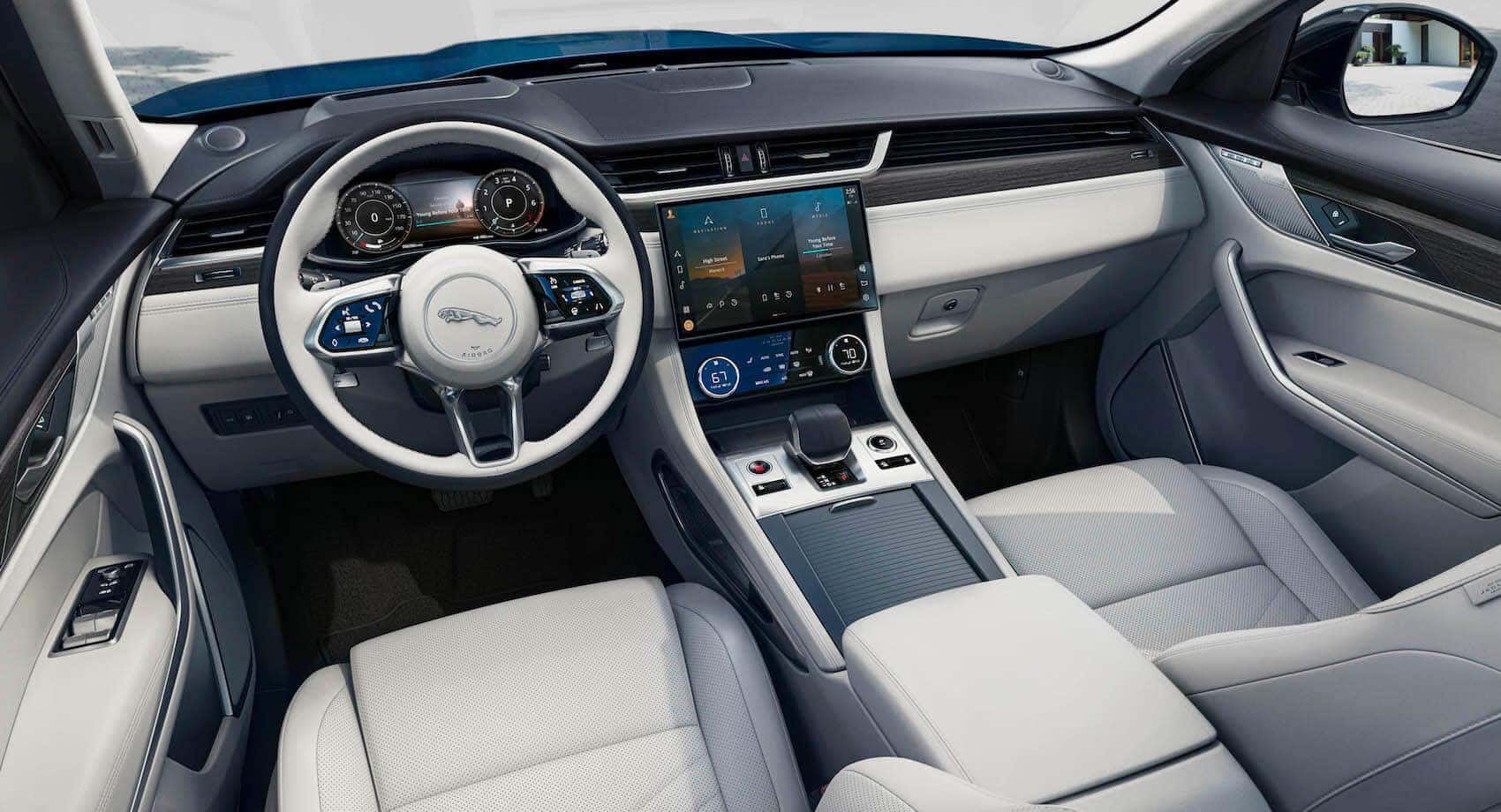 Brace yourself. The Jaguar F-PACE is not just any ordinary SUV. This luxurious and exhilarating ride is ready to make its mark on the car world. Once you get behind the wheel of the Jaguar F-PACE, you won't remember your life without it.
This ride combines interior and exterior style with a capable engine that'll make your daily drives all the more exciting. An amazing array of technology will jazz up your early morning commutes, with features including:
11.4-inch touchscreen
Wireless charging
Apple CarPlay® and Android Auto™ integration
12.3-inch Interactive Driver Display
You'll enjoy a ride that's powerful and personalized. You can customize your display with various layouts, including full-screen 3D navigation. You can discover all the hidden gems in your community, with the help of clear directions at your disposal.
This luxury SUV is the perfect companion for both work and play. You're sure to experience supreme satisfaction as you command the roads with ease.
Why Lease a Jaguar F-PACE?
Now, you know why you should consider driving a Jaguar F-PACE. What are the benefits of leasing this incredible ride?
Leasing gives you the freedom to upgrade your vehicle every few years, so you can always have the driving machine that's just right for your life. Whether your growing family means you need a bigger ride or you're ready to enjoy your twilight years in the sporty roadster of your dreams, your driving situation is always adaptable when you lease.
Additionally, Jaguar is constantly updating their lineup with innovative technology and features, so you'll always have a great experience behind the wheel. Leasing gives you the ability to upgrade to the newest model every few years, so you can stay on top of the latest developments.
You'll wander without limits when you choose to lease.
Lease a Jaguar With Us!
If you're ready to experience the luxury of a Jaguar F-PACE, unimaginable comfort and performance are within your grasp when you choose to lease a vehicle from us. You'll receive the daily driver of your wildest dreams at a fair rate, so you can have an experience behind the wheel that's everything you ever hoped it would be.
Our team of financial experts will advise you during all steps of the leasing process. We're here to help you find a rate that meets your needs, so you'll drive off with a smile on your face and endless possibilities before you.
Your happiness is our priority and our experts have years of experience to help you every step of the way. Why not invest in your driving future by finding your perfect lease deal?
Imagine Yourself With a Jaguar F-PACE Lease
Enter a world of supreme style and performance with a Jaguar F-PACE lease. This exceptional ride can be yours when you consult the team at our finance center—your entry point to unimaginable luxury. An elite driving experience is achievable when you make an appointment with our advisors.
If you're a driver near Cleveland, Parma, or Garfield Heights, OH, why wait? Visit Jaguar Westside today to revolutionize your daily commutes and weekend adventures in your dream vehicle!